Father Roland Roberts, Founder of St Benedict's in St Vincent
Mr Stephen McNamee, a long-time friend and admirer of Father Roberts, wrote the following article about him in June, 1981.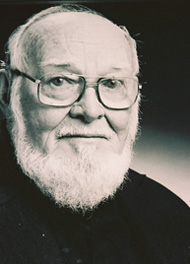 Preface:
As it was in the beginning…
It was a blessing to have been afforded the privilege of staying with Fr Roberts for an extended period of time back in the early 80s. His energetic concern for the impoverished children of St Vincent was an inspiration to all. St Benedict's Day Nursery and Children's Home stands today as a visible monument to his love and devotion for all the people of St Vincent and the Grenadines.
Although Fr Rollie Roberts passed away on 11th February 1994, his legend indeed lives on in the hearts of all who knew him. His legacy of love and concern for his cherished children has inspired the next generation to carry on his altruistic endeavors with current plans to enhance and expand all the facilities of St Benedict's.
From his heavenly perch, Fr Rollie must be smiling down upon those plans and, I'm sure, will utilize his divine intervention to ensure their success. With God's help and the generosity of all (supporters) at this critical time in the history of St Benedict's, success will be inevitable.
S.M.

A Living Legend In St Vincent
by Stephen McNamee
June, 1981
Mr Stephen McNamee has just returned from St Vincent where he and his wife worked for five months as a teacher and a nurse respectively. Mr McNamee is also a professional writer and has published several novels and one work of non-fiction.
On the Caribbean Island of St Vincent, 90 miles west of Barbados, a mutual love affair has been building for the past 18 years between the people and Father Rollie Roberts. The spry, 75-year-old Scarboro missionary priest is now a living legend among the parishioners of his churches in Georgetown, Belle Vue and Sandy Bay, and there's not a native on the Island who hasn't heard of him.
Originally from Victoria, B.C., Fr Roberts entered the seminary at the age of 23. Six years later, he was ordained in Victoria by the late Archbishop Gerald Murry, CSSR.
His earliest wish was to serve in Scarboro's Mission in China, but illness thwarted that dream. Instead, he was appointed to serve in Vancouver's Chinese Mission. He remained there until 1935.
National Director
Fr Roberts was then appointed as the National Director of the Pontifical Association of the Holy Childhood, a mission organization for the care and education of children in the mission lands.
Stationed in Vancouver, he was responsible for all of English-speaking Canada. He held that position for 17 years.
Fr Roberts then returned to Scarboro, where he worked for the next 10 years in Scarboro's Promotion Department. His tenure there included a stint as editor of Scarboro Missions.
Call to St Vincent
He was in Halifax, living at the Basilica, when he received word of his appointment to St Vincent. He packed his bags in July, 1962, and left to spread God's Word in a new land.
"My first impressions of Georgetown, where our St Benedict's Presbytery was, and still is, located, were not all that great," he admitted. "It was a depressed area. The sugar factory, which was the town's biggest employer, had just been shut down by a strike – and it never re-opened.
Not one to be easily deterred, Fr Roberts went ahead and developed the three missions in St Benedict's Parish. Improvements were noticeable almost immediately.
Day-Care Centre
One time when Fr Roberts was touring the impoverished back areas of Georgetown, he saw many children who had been left alone for the day, tied to a piece of furniture, while their parents were at work.
"The need of a day-care centre was obvious," he said.
He managed to get a $5,000 grant from the Paris-based Holy Childhood Association. A piece of land with a one-story house was also donated by the late Mr Basil Balcombe of the Mount Bentinck Estate, located in Georgetown.
The Centre opened in the fall of 1963, with accommodation for 12 children. In time, additional expansions increased its capacity to 35 children.
Adversity struck in 1968 in the form of ravenous termites.
"I remember going over there one night," Fr Roberts recalled, "and I could actually hear those termites at work. A few days later, a worker just touched the roof with a sledge hammer and the whole thing caved in."
So, it was back to square one.
A New Hospital Too
Because of a concern in the area for the growing number of children suffering from malnutrition and related diseases, Fr Roberts decided that the time had come for a parish hospital to complement the new day-are centre which would have to be built.
"Some of the children that used to be left at the Nursery would be too weak to even move," he recalled. "It was obvious that any future day-care centre would have to be coordinated with the facilities of a health unit."
With the generous assistance of OXFAM, England, a grant was awarded to St Benedict's in 1968, which paid for most of the new hospital.
With the help and cooperation of countless donors throughout Canada and Elsewhere, the new day-care centre was soon completed.
Today, that day-care centre has complete facilities to accommodate 100 children; and the hospital has 12 beds, with patients admitted by a local Georgetown doctor.
Both facilities are maintained primarily through a sponsorship program in which donors give a monthly contribution towards the support of a child.
A New Staff
While construction of the hospital was still underway, Miss Marion Miller, a papal volunteer, arrived from the United States and trained three local girls as nurses' aids. She was also assisted by three volunteer nurses from Canada, who later ran the hospital after Miss Miller returned to the U.S.
True stability came to the hospital with the arrival from Grenada of Sister Joseph of the Corpus Christi Carmelites, Trinidad. Although she was able to remain only a short time, she was immediately replaced by other Sisters of the Carmelite Community.
Today, Sister Amadeus is in charge of the day-care nursery and hospital, and both are doing well under her competent guidance. With the Assistance of two other Carmelite Sisters, she directs a full time staff of 25 employees.
A Man on the Move
Meanwhile, Fr Rollie Roberts can be seen almost any time of the day or night zipping through the mountainous countryside in his Subaru van, nick-named "Cherub," or, when required for rougher terrain such as the 8-mile trek to Sandy Bay, in his old Land Rover.
Whether traveling to say Mass at his three wide-spread missions, distributing Holy Communion to the sick and elderly, or performing missions of mercy, Fr Roberts is a man constantly on the move – and when he moves, it seems a good part of any town moves with him because he's the softest touch on the Island for a hitch-hiker.
Off the Island, Fr Roberts' primary form of communication is his quarterly LINK, which he writes and publishes.. It informs donor-subscribers of all activities in the three St Benedict's missions and provides them with news and information pertaining to religious and cultural life in St Vincent.
After being on the Island for 18 years, nothing can really upset Fr Roberts any more – not even when La Soufriere, the still-active volcano, erupts. It do so most recently in April, 1979, and caused $60,000 in damage to the Mission buildings.
"We had to put new roofs on all our buildings," he said, "but at least nobody was killed or even injured – thanks to the fine evacuation procedures conducted by our own staff and government personnel."
Then there was Hurricane Allen in August, 1980: "It wiped out the banana crops and did considerable damage throughout the island, but St Benedict's escaped with only one broken window. Guess Someone up there still likes us," he laughs.
Every three years, Fr Roberts makes a brief visit to Canada, but he considers the Island of St Vincent his home now.
Just prior to his last trip to Canada, he went around the parish to say goodbye to friends. One chap looked rather startled and cried, "You comin' back?"
"Yes," Fr Roberts assured him.
"Good," exclaimed the man. " 'Cause when you die, we gonna have de biggest funeral in de history of Georgetown!"
The legend of Fr Rollie Roberts will never die.